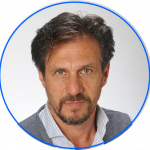 ANDREA SGOIFO
Currently Associate Professor of Physiology, Department of Chemistry, Life Sciences and Environmental Sustainability at the University of Parma - Italy (since 2005).
Currently teaching:
- General Physiology 2, Bachelor degree in Biology, University of Parma.
- Psychobiology, Master degree in Biology & Biomedical Applications, University of Parma.
- Stress Psychobiology, Master degree in Psychobiology & Cognitive Neuroscience, University of Parma.
He has been invited as Visiting Professor by several Universities both inside and outside Europe.  
He received the full professorship qualification in Physiology (MIUR 2014 and 2018).
His present research activities are about the Stress Physiology Lab is mainly focused on the biological substrates of depression/anxiety and autonomic/cardiovascular dysfunction comorbidity.
He is member of several international editorial boards.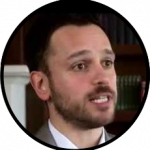 FRANCESCO CERRITELLI
Chair – COME Collaboration, is an osteopath DO with broad interests in osteopathic and touch research, neuroscience and health science focusing on interdisciplinary aspects of evidence based medicine. Francesco has published several scientific papers in this field. In 2008, he founded the European Institute for Evidence Based Osteopathic Medicine (EBOM), a non-profit research association, then transformed it into a not-for-profit foundation named COME Collaboration in 2014. In 2011, Francesco attended the Master in Public Health at Imperial College London and in 2018 obtained a PhD in Neuroscience at University of Chieti-Pescara focusing on fMRI and the interoceptive aspect of osteopathy. Francesco has received several international prizes in relation to the scientific activities conducted.
FABRIZIO PIRAS
Coordinates the research area of ​​Neuroimimages within the Neuropsychiatric Laboratory of the Santa Lucia Foundation Irccs. His studies concern the symptomatology and rehabilitation of cognitive deficits secondary to neurological disorders such as degenerative diseases, cerebrovascular and psychiatric diseases.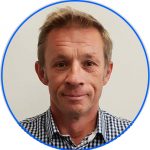 PHIL AUSTIN
Phil Austin is a UK-trained osteopath and researcher who holds a PhD in pain medicine. Phil's clinical areas of interest include the treatment of computer-related musculoskeletal pain conditions and the effects of work-related stress on the severity and duration of persistent pain.
Phil graduated from the European School of Osteopathy in 1997. Following the completion of his degree Phil worked in New Zealand, UK and Sweden and is now permanently located in Sydney where he combines his clinical work with research.  This includes the investigation of clinical methods of predicting the extent and severity of pain in people with chronic pain conditions such as fibromyalgia and in cancer patients receiving chemotherapy. He is also a member of the Australian Osteopathic Accreditation Council and a leader in the Chronic Pain Practice Group
Phil began his postgraduate studies at the University of Edinburgh gaining an MSc in pain management and a PhD investigating the potential for multi-dimensional assessment of functional gastrointestinal disorders such as irritable bowel syndrome and functional dyspepsia. Phil works as a clinical tutor for the M.Sc in Clinical Management of Pain at the University of Edinburgh while also being involved in various areas of palliative care research at Greenwich Hospital in Sydney.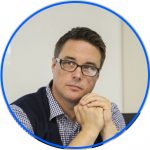 CHRISTIAN FOSSUM
Associate Professor and Head of Studies of the Norwegian University College of Health Sciences. Deputy Director of the European School of Osteopathy, Maidstone, England; Assistant Professor at the Department of Osteopathic Manipulative Medicine, Kirksville College of Osteopathic Medicine, USA and Associate Director of the AT Still Research Institute and AT Still University of Health Sciences. He is currently completing his doctorate at the University of Bedfordshire and the British School of Osteopathy. His post-graduate courses are famous and are full of theoretical and practical information that can be used immediately in your business.
RAFAEL ZEGARRA PARODI
Rafael Zegarra-Parodi is a registered osteopath in France and the UK practising in Paris since 1999. He completed his Diploma in Osteopathy at the British College of Osteopathic Medicine in London, UK (1997) and gained a Master's degree in Education at the University of Tours, France (2008). Following this he has also completed diploma courses in Clinical Research Methodology (2009), Statistics (2010) and Epidemiology (2011) from the University of Bordeaux 2, France. Rafael has also been heavily involved in osteopathic education and research. He previously held a 2-year full-time position as Research Assistant Professor at the A.T. Still Research Institute in Kirksville, MO (USA) and was a unit leader at the University College of Osteopathy in London, UK. Currently, he is an Associate Editor of the International Journal of Osteopathic Medicine and a member of the Board of Trustees of the Non-profit Foundation COME Collaboration. As an osteopath, Rafael has an expertise in the management of chronic and acute neuromusculoskeletal conditions and sport injuries. He has also developed a professional interest in spirituality embedded within Native American and Amazonian traditional medicines and their potential interactions with Western manual medicine.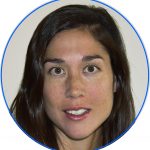 LEA AWAI
PhD at ETH Zurich, Switzerland. 
Since November 2018, working at School of Health Sciences Fribourg, University of Applied Sciences and Arts Western Switzerland (HES-SO), Switzerland as Lecturer in Osteopathy. 
Expert in Three-dimensional motion analysis (Vicon, Codamotion), Surface Electromyography (Noraxon), Posturography (AMTI), Matlab programming. 
Other relevant Research and Work experiences: 
Sep 2017 ~ Jul 2018 Balgrist University Hospital, University of Zurich, Switzerland
Postdoc fellowship (Forschungskredit UZH Postdoc FK-17-043)
Sep 2015 ~ Mar 2017 Institute of Neurology, University College London, UK
Postdoc fellowship (SNF Early Postdoc Mobility Fellowship P2EZP3_162243/1)
Jun 2010 ~ Jun 2015 Balgrist University Hospital, University of Zurich, Switzerland
PhD and postdoc researcher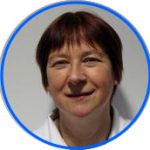 HILARY ABBEY
Hilary Abbey qualified as an osteopath in 1979 and currently works at the UCO as an Associate Professor and Head of Research. She leads the Osteopathy, Mindfulness and Acceptance Programme (OsteoMAP) and her doctoral research involved developing a new course to integrate psychological and mindfulness-based interventions with osteopathic care for patients with persistent musculoskeletal pain. Her current research interests include exploring how osteopaths can make the most effective use of biopsychosocial models of care and how touch-based treatments can influence patients' embodied sense of self and their interoceptive awareness.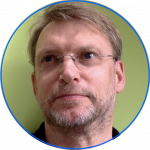 PATRICK VAN DUN
Patrick van Dun has a private practice as an osteopath in Mechelen (Belgium) and Habichtswald (Germany).
He is a Board of Trustees member of the Centre for Osteopathic MEdicine Collaboration (COME), Pescara (Italy). He is the chair and co-founder of the Commission for Osteopathic Research, Practice and Promotion vzw (CORPP). He got his M.Sc.                           degree in Rehabilitation and Physical Therapy at the Catholic University Leuven in 1989 and completed his osteopathy studies at COC, organised at the Free University of Brussels, in 1993. Patrick has been the Scientific Director of the German College for Osteopathic Medicine (GCOM), Wiesbaden (Germany) from 2000 till 2006 and Head of Research of Osteopathy, Department Clinical Medicine and Biotechnology, Danube University Krems (Austria) from 2010 till 2012. Patrick has been a research collaborator at the Free University of Brussels, Department of Osteopathic Sciences, Research Unit in Osteopathy, Brussels (Belgium) from 2012 till 2016.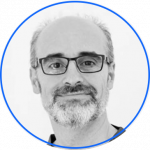 JORGE ESTEVES
Jorge Esteves is an osteopath practising in Riyadh, Saudi Arabia. He is an Honorary Professor at the University College of Osteopathy in London, Academic Director at MYO Osteopathy Academy in Riyadh, and researcher with Collaboration for Osteopathic Medicine Research in Italy.
Previously, he served as the Head of Research at the British School of Osteopathy (BSO) in London, as a non-executive council member of the UK's General Osteopathic Council, and osteopathy subject reviewer for the United Kingdom's Quality Assurance Agency for Higher Education (QAA); he was also a Senior Lecturer in Osteopathy at Oxford Brookes University in the UK and an Associate Professor at Piaget Institute in Portugal where he was instrumental in the development and implementation of the osteopathic provision at those two universities.
In 2011, Dr Esteves completed his PhD at Oxford Brookes University. His research focused on examining diagnostic palpation in osteopathy and developing neurocognitive models of expertise. He is interested in investigating the effects of touch and pain on body and mind, particularly, how pain affects the way in which people process their emotions; how pain affects the sense of the self; and what is the role of touch in the modulation of pain, sense of the self and emotional processing. Dr Esteves is also an Associate Editor for the International Journal for Osteopathic Medicine, member of the Board of Trustees of the Collaboration for Osteopathic Medicine Research, collaborates in a number of research projects and lectures and assesses at various schools worldwide.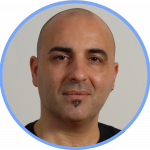 CHRISTIAN LUNGHI
Christian Lunghi works as osteopath in Rome (Italy). He is a council member of the Italian Centre of Osteopathic Medicine Collaboration foundation (COME), member of the Core Competence Working Group of the Italian Register of Osteopaths (ROI), and member of the Core Curriculum Working Group of the Italian Association of Schools of Osteopathy (AISO). He lectures on osteopathic clinical reasoning and rational of osteopathic medicine. He is author and co-author of books and publications in indexed journals.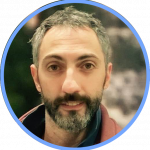 DIEGO LANARO
Osteopath D.O. - Health Biologist Ph.D.
Enrolled in the Register of Osteopaths of Italy (R.O.I.), graduated at the European Institute for Osteopathic Medicine in Genoa (Italy) in partnership with the European Centre for Higher Education in Osteopathy (C.E.E.S.O.) in Paris.
Graduation with honour in Biological Health Sciences and has a Ph.D. in "Internal Medicine, autoimmunity and diseases of the digestive tract" at the University of Genoa.
He developed several studies in osteopathy and molecular biology, with particular attention to paediatric osteopathy.
Since 2012 he is Professor and Head of the Department of Thesis and Research for the European Institute for Osteopathic Medicine in Genoa.
Since 2014 he is teacher at the Master in "Complementary Medicine and Integrated Therapies" of the University of Siena and collaborates with the Department of Experimental Medicine of the University of Genoa.
Since 2017 he is Lecturer at the Master in "PNEI - Psiconeuroendocrimoimmunologia" of the University of Turin (Italy) studies.
Member and Professor of the osteopathic clinic - "Osteopathy for children" training and research centre in Genoa and of the Italian Society of Psycho-neuro-Endocrine Immunology (SIPNEI) within the Liguria Region Committee and the National "Body Therapy" Research Commission.
Member of the Board of Directors and Head of the Scientific Committee and for the Lab Research Group - Research Division in the International Foundation for Osteopathic Research AS Collaboration.
Member of the Board of the Italian National Centre (NACE) of The Non-Profit Foundation COME Collaboration.

NICOLA BARSOTTI
Osteopath D.O. member R.O.I. - Magistralis Laurea in Rehabilitation Sciences - Fisioterapist; Professor of anatomical-physiology of the ANS and integrated physiology PNEI at C.I.O. Italian College of Osteopathy;
Coordinator of the National Research Commission of Body Disciplines (DIS-CO) of SIPNEI; Member of the SIPNEI national executive board; Founding Partner C.M.O. Center for Osteopathic Medicine and Integrated Therapies, Florence; Member of C.O.M.E. Collaboration
MATHIEU MÉNARD
Mathieu Ménard qualified as an osteopath in 2008 and currently works at the Institutd'Ostéopathie de Rennes (France) as a lecturer in sports science (biomechanics) and at the Movement, Sport and Health Sciences laboratory (M2S, France) as an associate researcher.
In 2016, he completed a PhD in biomechanics at the University of Poitiers, France. His current research interests applied biomechanics, musculoskeletal modelisation and simulation of sport movements, biomechanics of injury and the use of e-learning in osteopathic education.