Date / Heure / Prix
Jeudi 17.02.2022 à 19h30
Tarif normal : 30 euros
Tarif étudiant : 20 euros
Gratuit pour les membres COME
Forme du cours / durée / langue
Séminaire online de 60 minutes avec des Questions/Réponses de 30 minutes
Langue: Français (les Q/R aussi possible en néerlandais et anglais)
Accrédité (Belgique) ID: 450210
Contenu
Avoir des informations correctes et prendre une décision thérapeutique pour votre patient sur son état de santé, sa maladie et le pronostic de sa maladie fait partie de la thérapie actuelle.
L'Evidence-Based Informed Osteopathy (EBIO) est une aide méthodologique dont le but est de fonder votre décision thérapeutique avec des preuves scientifique pour vos patients.
Où pouvons- nous obtenir ces informations de haute qualité méthodologique ?
Pendant le webinaire nous allons découvrir plusieurs bases de données dans lesquelles nous allons trouver des études de haute qualité scientifique. Nous vous proposons une stratégie de recherche pour faciliter votre vie dans la jungle des différentes bases de données, tout ceci dans le but que vous pouvez l'introduire dans vos actes clinques journaliers.
Les Buts d'apprentissage
Connaître les différentes bases de données
Formuler une question PICO
Apprendre une stratégie de recherche structurée
Intégration des outils EBIO dans la pratique quotidienne
Remarque pour tous les inscrits
Veuillez noter que le webinaire a été accrédité en Belgique sous le numéro d'identification 450210.
Bibliographie
Higgins JPT, Thomas J, Chandler J, Cumpston M, Li T, Page MJ, Welch VA (editors). Cochrane Handbook for Systematic Reviews of Interventions version 6.2 (updated February 2021). Cochrane,Available from training.cochrane.org/handbook
Van de Velde S, Vander Stichele R, Fauquert B, Geens S, Heselmans A, Ramaekers D, Kunnamo I, Aertgeerts B. EBMPracticeNet: A Bilingual National Electronic Point-Of-Care Project for Retrieval of Evidence-Based Clinical Guideline Information and Decision Support. JMIR Res Protoc. 2013 Jul 10;2(2):e23. doi: 10.2196/resprot.2644.
Capobussi M, Banzi R, Moja L, Bonovas S, González-Lorenzo M, Liberati EG, Polo Friz H, Nanni O, Mangia M, Ruggiero F. Recenti. Computerized decision support systems: EBM at the bedside. Prog Med. 2016 Nov;107(11):589-591. doi: 10.1701/2484.25970.
Sadeghi-Bazargani H, Tabrizi JS, Azami-Aghdash S. Barriers to evidence-based medicine: a systematic review. J Eval Clin Pract. 2014 Dec;20(6):793-802. doi: 10.1111/jep.12222. Epub 2014 Aug 18.
de Fernelmont L, Laere SV, Devroey D. The Quality of EBM Sources Perceived By Belgian Family Physicians. J Med Sci.2018 Oct 18;6(10):1918-1923. doi: 10.3889/oamjms.2018.382. eCollection 2018 Oct 25.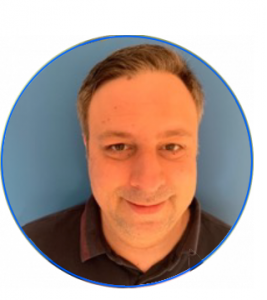 CV referent
Emmanuel Simons a un cabinet privé d'ostéopathie à Meise et il est le coordinateur paramédical au CHU-Brugmann – Bruxelles. Depuis 2002 il est membre du staff du Centre d'Evidence Based Medicine (CEBAM).
Il a obtenu son diplôme de kinésithérapie à la VUB en 2000 et il a terminé sa formation de d'ostéopathie au Collège Sutherland en 2005.
Il a plusieurs publications internationales et nationales et est surtout intéressé à l'intégration l'EBM dans plusieurs domaines de santé.