Neuroscience at the light of osteopathic clinical needs / Neurociencia a la luz de la necesidades clínicas en osteopatía
Ponencia en Inglés con traducción al Castellano
Presencial o en Streaming (ver opciones de inscripción)
RESUMEN
This seminar will introduce the key concepts of neuroscience and apply them into a clinically- based osteopathic practice. The ultimate outcome is to open doors on the possiiblity to apply an informed neuroscience-based practice for clinicians.
Neuroscience has been recognised a "cross-discipline" and the use of neuroscience information in the field of osteopathy creates a very unique opportunity to further understand patients' conditions, clinicians' experiences and the patients-clinicians environment.
Esta conferencia pretende hacer una introducción a los conceptos de la neurociencia y aplicarlos a la clínica de la práctica habitual. Como objetivo final pretende abrir las puertas a la posibilidad de realizar una práctica clínica basada en la neurociencia. La neurociencia se ha considerado una "disciplina-cruzada" y el uso de su información en el campo de la osteopatía crea una oportunidad única para poder entender mejor las condiciones de los pacientes, las experiencias de los clínicos y el entorno paciente-terapeuta.
OBJETIVOS
At the end of the seminar, participants will be able to:
1. Develop a neuroscience clinical-based thinking
2. Apply the theoretical neuroscience concepts into a daily-based clinical practice
3. Develop an informed neuroscience-based clinical practice
Al terminar la conferencia, los participantes serán capaces de:
1. Desarrollar un pensamiento neurocientífico basado en la clínica
2. Aplicar la teoría de los conceptos neurocientíficos a la práctica clínica diaria.
3. Desarrollar una práctica clínica basada en la neurociencia
REFERENCIAS
Cerritelli F, Chiacchiaretta P, Gambi F, Ferretti A. Effect of Continuous Touch on Brain Functional Connectivity Is Modified by the Operator's Tactile Attention. Front Hum Neurosci. 2017 Jul 20;11:368.
McGlone F, Cerritelli F, Walker S, Esteves J. The role of gentle touch in perinatal osteopathic manual therapy. Neurosci Biobehav Rev. 2017 Jan;72:1-9.
D'Alessandro G, Cerritelli F, Cortelli P. Sensitization and Interoception as Key Neurological Concepts in Osteopathy and Other Manual Medicines. Front Neurosci. 2016 Mar 10;10:100.
Nijs J, Torres-Cueco R, van Wilgen CP, Girbes EL, Struyf F, Roussel N, van Oosterwijck J, Daenen L, Kuppens K, Vanwerweeen L, Hermans L, Beckwee D, Voogt L, Clark J, Moloney N, Meeus M. Applying modern pain neuroscience in clinical practice: criteria for the classification of central sensitization pain. Pain Physician. 2014 Sep-Oct;17(5):447-57.
Mr. Francesco Cerritelli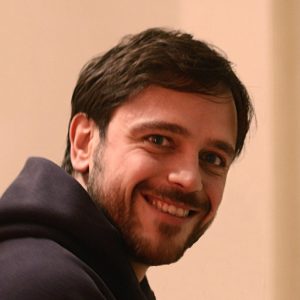 Dr. Francesco Cerritelli PhD es un neurocientífico y osteópata DO con gran interés en la investigación del tacto en osteopatía, neurociencia y ciencias de la salud enfocado en los aspectos interdisciplinares de la medicina basada en la evidencia. Francesco ha publicado varios artículos científicos en este campo. En 2008 fundó el Instituto Europeo para la medicina osteopática basada en la evidencia (EBOM), una asociación sin ánimo de lucro que más tarde transformó en el 2014 en una fundación sin ánimo de lucro para la investigación llamada C.O.M.E Collaboration. Entre el 2009 y el 2014 Francesco fue director del departamento de investigación en A.I.O.T y designado a impartir clases de neurociencia en la misma institución. En 2011 realizó un Máster en Salut Pública en el Imperial College de Londres y en el 2018 obtuvo su PhD en Neurociencias en la universidad de Chieti-Pescara focalizado en RMN y la interocepción en osteopatía. Francesco ha recibido varios premios internacionales por diversas actividades científicas que ha realizado.
DIRECCIÓN
Edifico Univers:  Comte Salvatierra 5-15
08006 Barcelona
HORARIO
Jueves 25 de Abril de 2019 de 19:30-21:30
Ponencia en Inglés con traducción al Castellano
Presencial o Webinar (ver opciones de inscripción)