Razonamiento clínico y diagnóstico diferencial en el dolor lumbar
RESUMEN
El dolor lumbar es una de las presentaciones más frecuentes en cualquier consulta médica y especialmente en los servicios Osteopatía. Se estima que 8 de cada 20 personas sufrirán en algún momento de su vida de dolor lumbar y actualmente representa un verdadero problema de salud pública con una gran gasto sanitario asociado. Dentro del abanico terapéutico indicado para esta dolencia, el ejercicio físico y la terapia manual han avalado su eficacia en numerosos estudios científicos. No obstante, el diagnóstico de "Dolor Lumbar" o "Lumbalgia" es altamente inespecífico y esconde varias sub-entidades clínicas que conviene reconocer para pautar un tratamiento adecuado. Además, es sabido que los factores psico-sociales del paciente juegan un rol capital en esta presentación clínica, especialmente en los casos crónicos. Todo ello obliga al clínico a afinar sus estrategias diagnósticas para poder ser eficiente en el momento de tratar este tipo de pacientes.
OBJETIVOS
Establecer una pauta de razonamiento clinico para el paciente con dolor lumbopélvico basada en el mecanismo de dolor subyacente
Conocer las principales presentaciones clínicas que conforman el "Dolor lumbar". Una aproximación informada en la evidencia
Conocer estrategias diagnósticas y las principales reglas de predicción clínica existentes en este campo
Conocer los principales tests exploratorios que facilitaran el diagnóstico del paciente con dolor lumbar
REFERENCIAS
Nijs J, Apeldoorn A, Hallegraeff H, Clark J, Smeets R, Malfliet A, et al. Low back pain: guidelines for the clinical classification of predominant neuropathic, nociceptive, or central sensitization pain. Pain Physician. 2015 May;18(3):E333–46.
Dagenais S, Tricco AC, Haldeman S. Synthesis of recommendations for the assessment and management of low back pain from recent clinical practice guidelines. Spine J. Elsevier; 2010 Jun;10(6):514–29.
Smart KM, Blake C, Staines A, Doody C. Clinical indicators of nociceptive, peripheral neuropathic and central mechanisms of musculoskeletal pain. A Delphi survey of expert clinicians. Man Ther. Elsevier Ltd; 2010 Feb 1;15(1):80–7.
Laslett M, Aprill CN, McDonald B, Young SB. Diagnosis of sacroiliac joint pain: validity of individual provocation tests and composites of tests. Man Ther. Elsevier; 2005 Aug;10(3):207–18.
Nijs J, Van Houdenhove B, Oostendorp RAB. Recognition of central sensitization in patients with musculoskeletal pain: Application of pain neurophysiology in manual therapy practice. Man Ther. Elsevier Ltd; 2010 Apr 1;15(2):135–41.
Haanpää M, Treede FD. Diagnosis and classification of neuropathic pain. IASP Clinical Updates; 2010.
Sr. Gerard Alvarez Bustins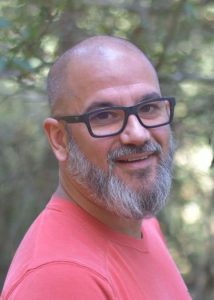 2000 Diplomado en Fisioterapia por la Universidad Ramón Llull
2004 DO en Osteopatía por la Escola d'Osteopatia de Barcelona – European School of Osteopathy
2012 Master Universitario en Investigación Clínica aplicada a las ciencias de la Salud por la Universitat Autònoma de Barcelona
2014 – Actualidad (en curso)  Doctorado en Metodología de la Investigación Biomédica y Salud Pública por la Universitat Autònoma de Barcelona
Osteópata y Co-Director de OsteoBCN Osteópatas (www.osteobcn.com)
Profesor titular del Máster en Osteopatia – Escola d'Osteopatia de Barcelona – IdEC Universitat Pompeu Fabra
Profesor titular del Máster en Osteopatía - Formación Belga Española de Osteopatía - Universidad Francisco de Vitoria
Coordinador académico del Institut per l'Excel·lència Clínica i Sanitaria (INPECS) – Hospital de Sant Pau – Centro Cochrane Iberoamericano
Director COME Spain National Center (Center for Osteopathic Medicine Collaboration)
Editor del Blog Osteobcn: www.osteobcn.com/blog
DIRECCIÓN
Edifico Univers:  Comte Salvatierra 5-15
08006 Barcelona
HORARIO
Jueves 29 de Noviembre de 19:30-21:30