Osteopathy, Placebo and sham therapy: clinical fact or fiction? / Osteopatía, Placebo y terapia "sham": un hecho clínico o ficción?
Ponencia en Inglés con traducción al Castellano
RESUMEN
The seminar will explore how osteopathic treatment can be applied using a practice-based informed approach using the latest research published critically analysing relevant osteopathic literature. Indeed we will discuss and learn how placebo, aka sham, might be part of a daily clinical experience. During the lecture, we will start assessing a 2016 systematic review with the aim to report how and what type of sham methods, dosage, operator characteristics, and patient types were used in osteopathic clinical trials and, eventually, argue on sham clinical effectiveness with a strong vision on its application into the clinical practice.
La conferencia explorará como aplicar el tratamiento osteopático utilizando una práctica informada en la evidencia utilizando la más reciente investigación publicada y analizando críticamente la literatura osteopática relevante. Se discutirá y aprenderá como el placebo/sham es parte de la experiencia clínica habitual. La sesión empezará analizando una revisión sistemática del 2016 con el objetivo de comentar qué métodos sham, dosis, características del operador y tipo de pacientes se usan en los ensayos clínicos en osteopatía. Trataremos de discutir sobre la efectividad del sham con una clara visión de su aplicación a la práctica clínica.
OBJETIVOS
At the end of the seminar, participants will be able to:
Develop a neuroscience clinical-based thinking

Apply the theoretical neuroscience concepts into a daily-based clinical practice

Develop an informed neuroscience-based clinical practice
Al finalizar la conferencia, los participantes serán capaces de:
Desarrollar un pensamiento neurocientífico basado en la clínica

Aplicar la teoría de los conceptos neurocientíficos a la práctica diaria habitual

Desarrollar una práctica clínica basada en la neurociencia
REFERENCIAS
Cerritelli F, Verzella M, Cicchitti L, D'Alessandro G, Vanacore N. The paradox of sham therapy and placebo effect in osteopathy: A systematic review. Medicine (Baltimore). 2016 Aug;95(35):e4728

Martelli M, Cardinali L, Barlafante G, Pizzolorusso G, Renzetti C, Cerritelli F. Do placebo effects associated with sham osteopathic procedure occur in newborns? Results of a randomized controlled trial. Complement Ther Med. 2014 Apr;22(2):197-202

Ruffini N, D'alessandro G, Mariani N, Pollastrelli A, Cardinali L and Cerritelli F. Variations of high frequency parameter of heart rate variability following osteopathic manipulative treatment in healthy subjects compared to control group and sham therapy: randomized controlled trial. Front. Neurosci. 2015; 9:260.

Cerritelli F, Ginevri L, Messi G, Caprari E, Di Vincenzo M, Renzetti C, Cozzolino V, Barlafante G, Foschi N, Provinciali L. Clinical effectiveness of osteopathic treatment in chronic migraine: 3-Armed randomized controlled trial. Complement Ther Med. 2015

Cerritelli F, Chiacchiaretta P, Gambi F, Ferretti A. Effect of Continuous Touch on Brain Functional Connectivity Is Modified by the Operator's Tactile Attention. Front Hum Neurosci. 2017 Jul 20;11:368.
Mr. Francesco Cerritelli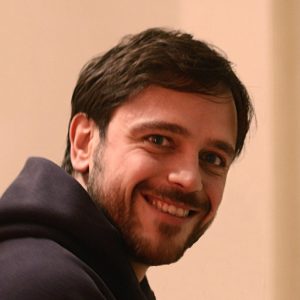 Dr. Francesco Cerritelli PhD es un neurocientífico y osteópata DO con gran interés en la investigación del tacto en osteopatía, neurociencia y ciencias de la salud enfocado en los aspectos interdisciplinares de la medicina basada en la evidencia. Francesco ha publicado varios artículos científicos en este campo. En 2008 fundó el Instituto Europeo para la medicina osteopática basada en la evidencia (EBOM), una asociación sin ánimo de lucro que más tarde transformó en el 2014 en una fundación sin ánimo de lucro para la investigación llamada C.O.M.E Collaboration. Entre el 2009 y el 2014 Francesco fue director del departamento de investigación en A.I.O.T y designado a impartir clases de neurociencia en la misma institución. En 2011 realizó un Máster en Salut Pública en el Imperial College de Londres y en el 2018 obtuvo su PhD en Neurociencias en la universidad de Chieti-Pescara focalizado en RMN y la interocepción en osteopatía. Francesco ha recibido varios premios internacionales por diversas actividades científicas que ha realizado.
DIRECCIÓN
ETSAM: Escuela Técnica Superior de Arquitectura de Madrid (UPM)
Av. Juan de Herrera, 4, 28040 Madrid
https://goo.gl/maps/PZxhmjeAoF72
HORARIO
Jueves 9 de Mayo de 2019 de 19:30-21:30
Ponencia en Inglés con traducción al Castellano